Case Study: Reddit Collectible Avatars
Reddit has entered the chat, launching the most lucrative NFT project of the year and onboarding over 4 million people to Web3.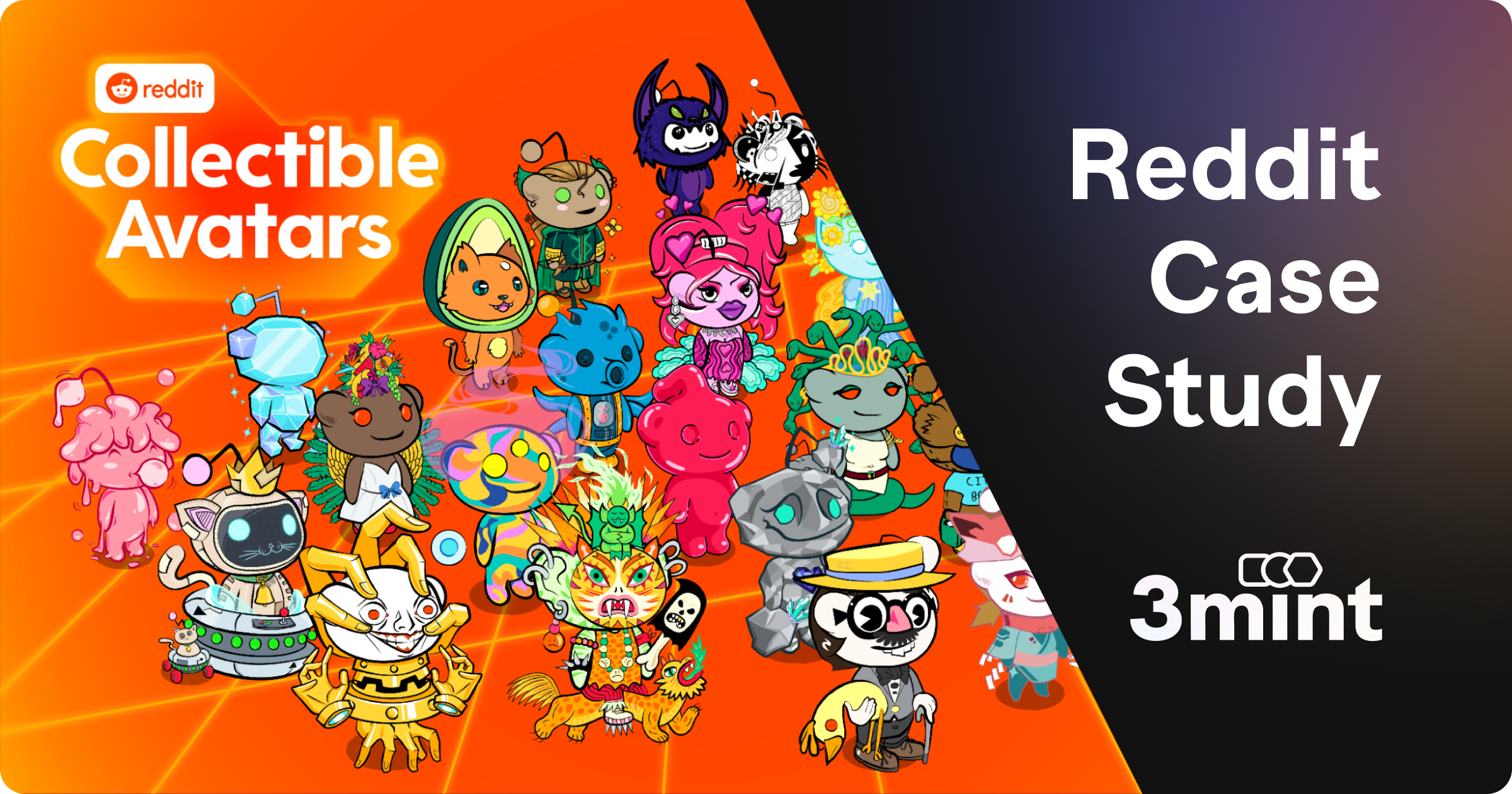 This is the third piece in our Case Study series, where we highlight the most compelling, innovative examples of brands and other consumer facing businesses leveraging Web3 in the way they engage with their customers. You can find our last piece on Nike dotSwoosh here.
Reddit has entered the chat.
In August 2022, Reddit launched the most lucrative NFT project of the year. Sporting a historically lukewarm (if not downright anti) rhetoric vis-a-vis NFTs, Reddit and its Collectible Avatars initiative could rear its head as a Web3 dark horse. Purposely omitting the acronym "NFT," Reddit rolled out Collectible Avatars at scale. Onboarding a stream of Web3 users and dollars, Reddit has signed on Trojan Horse style—and doesn't plan on slowing down.
What are Reddit's Collectible Avatars?
Collectible Avatars are limited-edition avatars created by Independent Artists on Reddit which provide owners with unique on-platform benefits. [1] In other words, as Tomasz Tunguz succinctly puts it: "Collectible Avatars allow users to buy profile pictures. They can sell these to other users if they like. Blockchain powers the experience." [2]
After purchasing a Collectible Avatar, the Reddit user owns the rights as well as the option to keep, trade, or sell their avatar. The Avatars are stored in each users' personal Vault–Reddit's version of a crypto wallet. Other benefits include mix-and-match Avatar gear, profile and comment priority, and more.
These Collectible Avatars emerge from partnerships with Independent Artists and lean heavily into Reddit's own lore (Reddit founder Alexis Ohanian first doodled "Snoo," the Reddit mascot, back when he was at the University of Virginia). They are available through the Collectible Avatar Shop, which accepts non-crypto currency payments including USD, and are offered as free and paid collectables from 49 fan-favorite Avatar Creators. So far, Reddit users have spent a staggering $11.4 million on Collectible Avatars.
How Does It Work?
The success of Reddit's Collectible Avatars relies on a streamlined user journey with low barriers to entry. Natively integrated into Reddit, the Collectible Avatar Shop relieves NFT pain points. Reddit's Collectible Avatars ushered in 4.25 million new Web3 users within 6 months. [3] With a seamless and efficient user flow, many Collectible Avatar users don't realize their Avatar and Vault run on the blockchain.
Let's break down Reddit's user experience.
Explore and Select an Avatar. After logging in, Reddit users navigate to the Collectible Avatar Shop. Within the shop, users explore artists, collections, and prices for NFTs. So far, 49 Artists have drawn Avatars–each netting about $189K gross revenue. Artists benefit from initial sales and subsequent resale royalties.
Purchase and Create Vault. During checkout, where Reddit accepts non-crypto currency payments via credit card, users are prompted to create a Vault–a place to store, customize, trade, and sell Collectible Avatars. Each Vault, behind the scenes, is a custodial crypto wallet on the Polygon blockchain. Just as users are ready to purchase, Reddit mandates creating a Vault–no Vault, no Avatar. More than 3 million Vaults have been created for housing Avatars.
Mix-and-Match. With the Avatar in hand, customize Avatar gear, build collections, and display it as your profile picture. Each collectible Avatar's clothing and gear (pets, accessories, etc.) are subject to changes and upgrades. Each Avatar belongs to a squad of similarly-designed Avatars. Many Reddit users are building sub-communities based on their Avatars' respective squads.  
Explore Benefits. With a collectible Avatar, a user's comments and profiles get prioritized. Additionally, users can display their Avatar, with gear and stats, on their profile. Beyond accessing special benefits within Reddit, users can sell, trade, or collect top Avatars. Additionally, Reddit's Vault integrates with other crypto wallets and NFT platforms. Reddit users can send thier Collectible Avatar to personal crypto wallets or gift the Avatar. Additionally, Reddit's Collectible Avatars are traded and listed on OpenSea.
Why is this important?
Reddit's first NFT project not only garnered massive success; they completely changed the NFT game. Through removing barriers to entry and delivering smooth UX, pushing Web3 into the background, Reddit has definitively shown Web2 companies that demand for digital collectibles is there—and it is HUGE.  
The numbers don't lie. Reddit onboarded over 4 million users (and counting) to Web3 without mentioning the words "NFT," "crypto," or "Web3." Reddit Collectible Avatars has 10x more users than Axie Infinity and 2x the number of OpenSea users.

Reddit's success also demonstrates two key insights:
Digital Collectibles Are Core to Digital Communities: A fast-growing, pseudonymous social network like Reddit thrives off of earned reputation, social signaling, and engagement. It's a perfect environment for a digital collectible program where users can flex their status while finding their own niches and communities.
Digital Identity FTW: Collectible Avatars represent more than cool toys or even assets—these NFTs symbolize a users' digital achievements and affiliations. Displaying these NFTs with pride shows users are ready for the next wave of digital identity. NFTs are the new profile picture, status symbol, and drippy hoodie.
What Reddit Did Well
NFT without "NFT". Omitting the word "NFT" was intentional. Aware of NFT backlash, Reddit engineered their own term: "Collectible Avatars." This phrasing resonates with their users while omitting Web3 jargon. Reddit retains the blockchain benefits without facing user fallout.
Focus on Emotional Investment. Reddit is primarily focused on getting users excited and emotionally invested in Collectible Avatar ownership. Only after a user has committed to purchasing an Avatar does Reddit make each user create a Vault. Reddit sets a hardline: no Vault, no Avatar. However, the Vault creation step feels natural: of course users need a home for their new Collectible Avatar.
Tap into the Vibrant Creator Ecosystem. Initialized in the r/comics channel, Reddit's ecosystem has always featured independent artists producing Avatars–starting with Snoo. The independent artists are invited to participate and keep 95% of primary sale profits and 5% of resale royalties. Through this payment structure, Reddit supports and uplifts their dedicated user base while also providing strong financial incentives.
Connecting Web3 to Web2. Most importantly, Reddit successfully connects Web2 and Web3 with their integrated marketplace, Vault, and non-crypto payments. Reddit planned for how Avatars would enhance existing Web2 structure. At scale, Reddit made onboarding new Web3 users easy, intuitive, and beneficial by building new features into their existing UX.
Interested in creating your own program?
Not every company boasts Reddit's formidable user loyalty and intrinsic value proposition for NFTs. However, every company can bolster customer loyalty and engagement by making Web3 work for them. As showcased by Reddit, the word "NFT" doesn't even need to be included in marketing.  
At 3mint we've made it incredibly easy for brands and consumer businesses broadly to launch their own Web3-based loyalty and community programs. Our all-in-one customer engagement platform abstracts away all the technical aspects of Web3; no crypto knowledge required. Simply identify how you want to reward your customers, launch campaigns, and leverage the insights we provide based on customers' purchase behavior to target and re-engage users accordingly.
About 3mint
3mint is the all-in-one Web3 customer engagement platform for brands, with a toolkit of enterprise-grade APIs and SDKs that enable brands to build any Web3 product or experience at scale—without any of the complexity associated with blockchains. Get in touch here!
---
References
[1] Reddit, "About the Collectible Avatars Shop"
[2] Tomas Tungusz, "The Most Successful Web3 Launch in 2022"
[3] Decrypt, "Reddit Users Have Minted More Than 5 Million NFT Avatars on Polygon"