Case Study: Nike .SWOOSH
How Nike is redefining the relationship with its customers by inviting them to become curators and co-creators.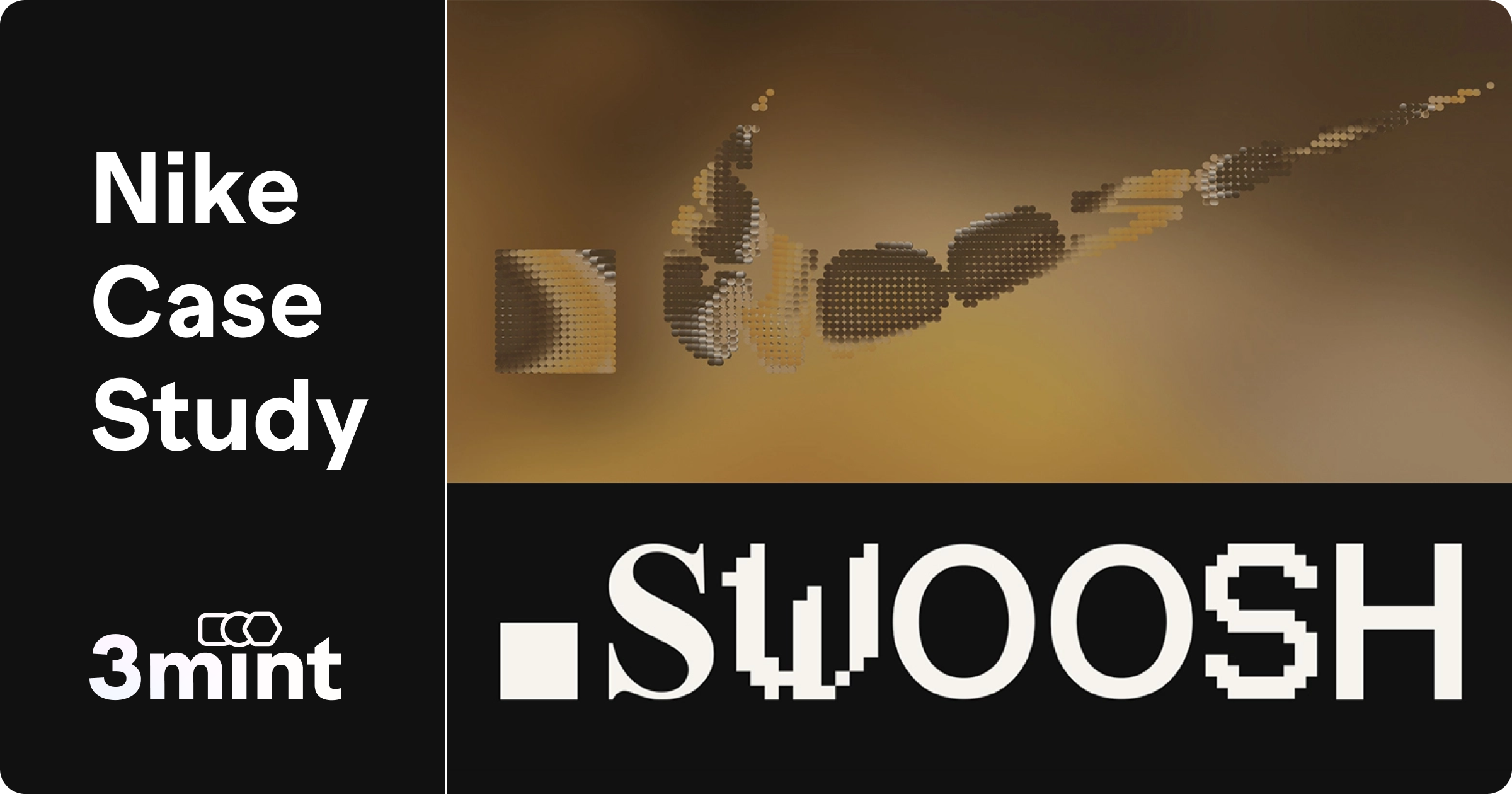 This is the second piece in our Case Study series, where we highlight the most compelling, innovative examples of brands and other consumer facing businesses leveraging Web3 in the way they engage with their customers. You can find our last piece on Starbucks' Odyssey Rewards Program here.
Last week, Nike announced the birth of its .Swoosh platform, a new initiative from Nike Virtual Sudios that will become the home for all digital asset creations at Nike. After last year's acquisition of RTFKT, this announcement marks another big step into the world of Web3. And it's been introduced with characteristic intentionality, feeding on Nike's rich history and grounded in a vision of reimagining community, loyalty, and co-creation through the lens of culture and sport.
What is dotSwoosh?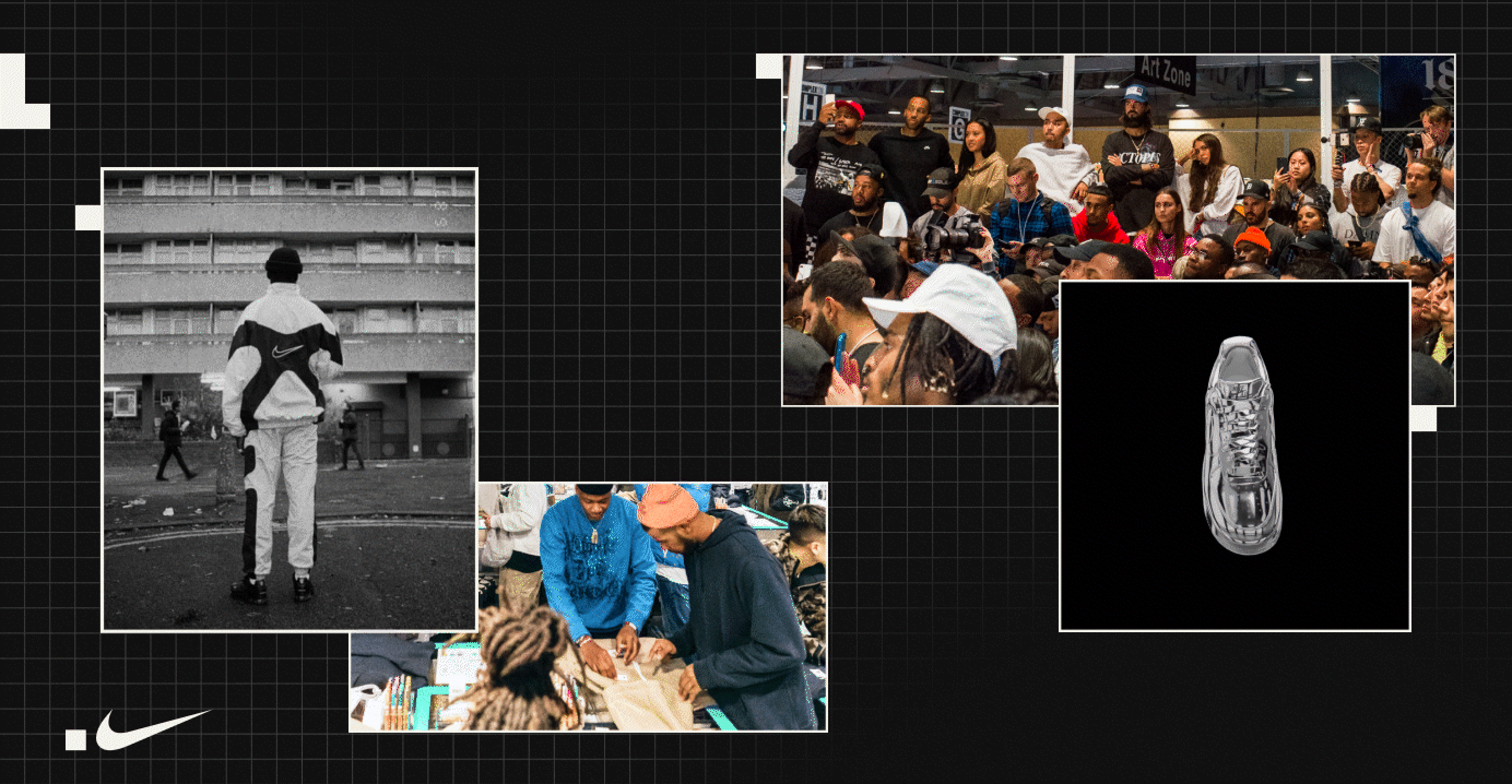 From the new .SWOOSH blog:
".SWOOSH is the home for all of Nike's virtual creations. Nike virtual creations are typically interactive digital objects (think virtual shoes or jerseys) that can be worn as wearables in video games or other immersive experiences (we'll be announcing which ones soon).

.SWOOSH starts as a place where you can collect your favorite virtual shoes, jerseys, or accessories. But as it evolves over time, it will become a home for our entire community to buy, trade, and co-create virtual products. That's right. In this world, some of you will get the chance to learn how to build virtual creations that can be worn in video games and experiences. And, for the select few creators who win our community challenges, you can earn a royalty from the virtual products you co-create with us."
Essentially, .SWOOSH is a platform for Nike's athletes, creators, and fans to create and trade digital assets of the future. These assets will be wearable in games, may unlock access to IRL events, or even unlock access to IRL products.
How does it work?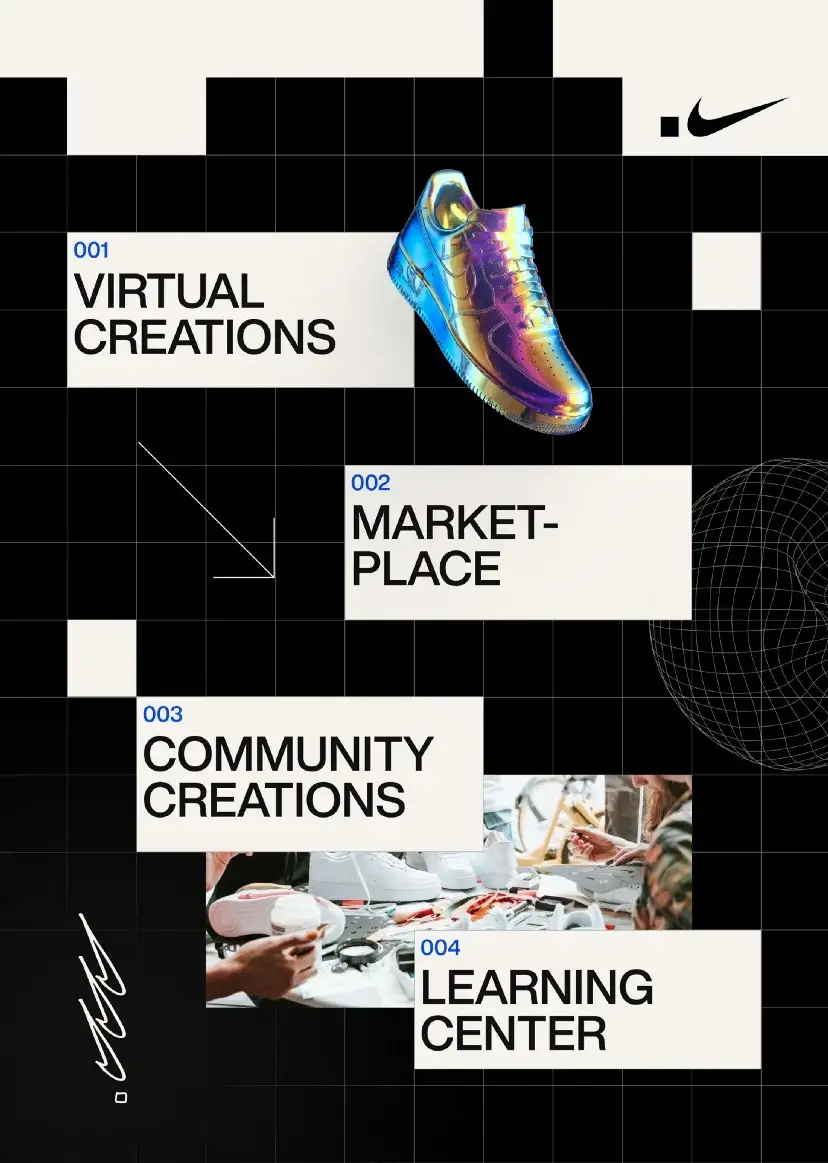 .Swoosh is an evolving platform, but what we know today is that you'll be able to interact with it in 4 basic ways:
Curate Virtual Creations: Nike will drop its first collection of virtual assets early next year; these collections will be created by Nike itself, by their partners (athletes, celebrities, etc.), and even by select users. Community members will be able to curate the collections and assortments coming onto the platform.
Buy, trade, sell through the Marketplace: the first bit of utility coming from .SWOOSH will come in the form of collection and trade of the assets. This is similar in format to Starbucks' Odyssey rollout. To prioritize safety, users won't be able to move their assets out to their own wallets at the outset; however, Nike is aiming to be compatible with third party wallets asap.
Community Creations: over time, the participation of the community will mature from curation to co-creation. Winners of "community challenges" will earn the chance to co-create assets and earn royalties on the sales of those assets. The potential here for co-creation with Nike's massive roster of sponsored athletes is incredibly powerful.
Learn in person and online through the Learning Center: Nike is investing in education, and will be holding tutorial sessions around Web3's role in the platform, but also how anyone can get started with software like Blender to create digital assets.
There are a couple more details worth mentioning. First, Nike also announced .SWOOSH IDs, which provide access to the platform and represent your unique digital identity in the .SWOOSH community. Based on some of the initial glimpses of the ID, it looks like they have a timestamp, a unique identifier, and levels, which could suggest that users may be able to level up and gain access to more perks and benefits as they engage more with the community.
Second, it looks likely that the first drop will be related to Nike AF1s, with community members able to vote on their favorite sneakers to curate the assortment.
To get started, users can visit the .SWOOSH platform. At the time of writing, you need a Nike account and an access code to get access; however, you can also sign up to the waitlist even without an access code.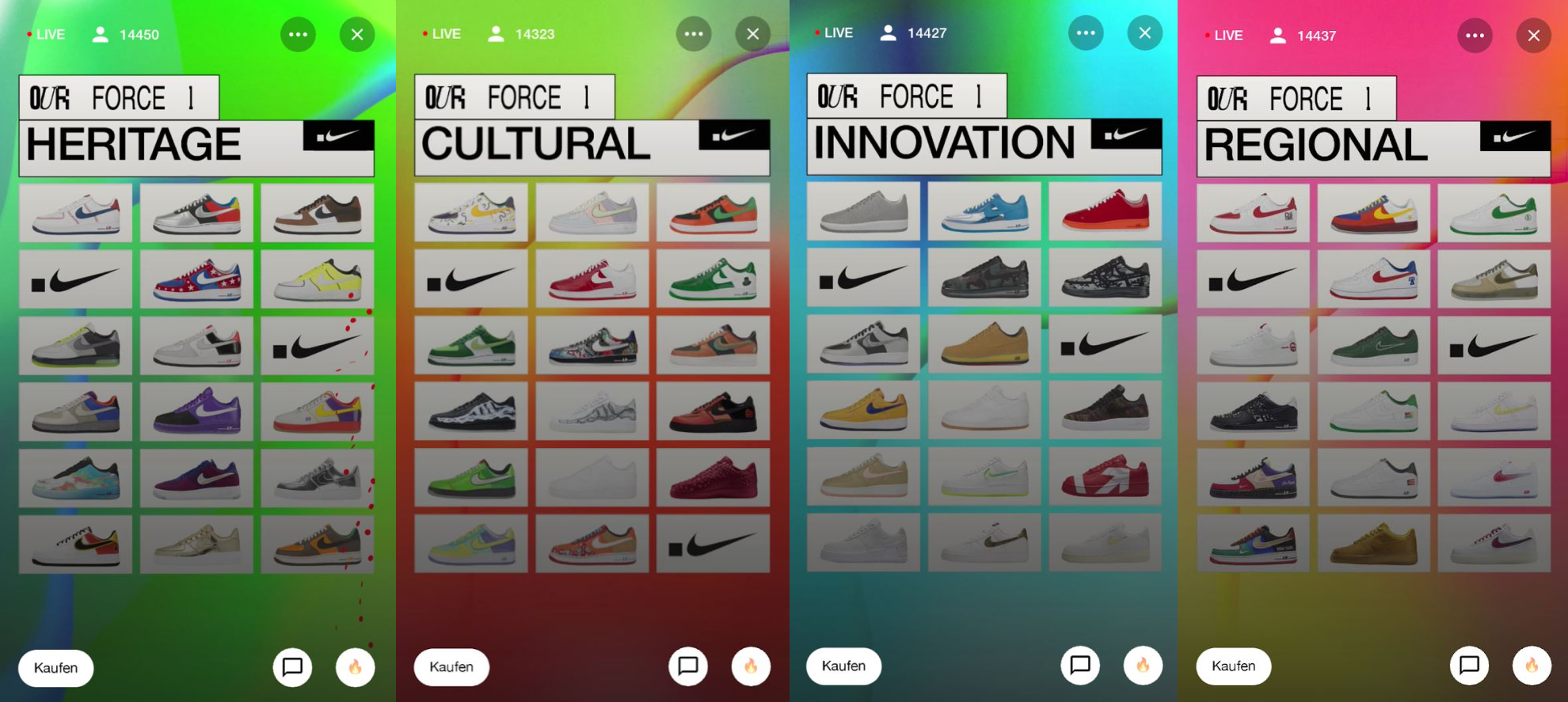 Why is this important?
The significance of this platform has to do with Nike's distribution (not just its size, but how embedded it is in culture) and its pedigree as a bold, trendsetting brand. dotSWOOSH has the potential to bring millions of users onto Web3 rails.
Fundamentally, this is Nike recognizing that the relationship with their customers is changing, and with new technology they have the opportunity (and now the ability) to bring their customers more closely into the family, to not only consume the Nike brand but to also participate in it and co-create with it. This has simply not been possible before, certainly not on the scale of a brand like Nike.
Nike not only has massive online and offline distribution, with a true global presence, but its brand also lives through the athletes and other cultural icons it represents. To name a few, Nike has relationships with Michael Jordan, Drake, Travis Scott, Cristiano Ronaldo, Lebron James, Rafael Nadal, Serena Williams, and Tiger Woods. This cast of celebrities represents role models and heroes that people across the world admire and connect with. The power of being able to offer to your community a role in curating and co-creating the next generation of products with these icons will have a dramatic impact on people's understanding of how Web3 contributes to a more participatory customer experience.
What Nike did well
First, Nike clearly understands the evolution of product in fashion, from a static, uni-dimensional "thing" that marks the end of a customer journey, to an asset that has connections to the digital world and links to an always-progressing, dynamic story. A virtual shoe isn't just a virtual shoe, it's a product tied to a service — one that evolves with the customer. As Ron Faris, head of Nike Virtual Studios, states, "for the first time the journey doesn't end when you sell the product, instead that's the beginning of the journey."
Second, Nike recognizes the role they have as an educator: They understand the opportunity and the role they have as an on-ramp to Web3 for users. And what they need to do to make that successful is a deep focus on education. Nike are better placed than the vast majority of brands to be that trusted voice, and they're taking the right steps to welcome and guide their users through community sessions, tutorials, etc.
Third, Nike is building community-first, rooted in its culture. The team at Virtual Studios knows that Web3 is about community, and the platform should reflect that from the outset. And it needs to be steeped in what has always made Nike a pioneer and a trendsetter. You can see this in how it's brought in athletes as partners and how it's starting with Air Force 1s as a first collection.
Finally, Nike understands their audience, and they've demonstrated that by separating dotSwoosh, which is for the crypto curious and the broad market, from the RTFKT brand, which is more premium and deeply steeped in Web3. While they've clearly been deeply influenced by the RTFKT team, they're invested in building an inclusive space for the broader Nike community.
Overall, Nike has created a platform that will enable them to create new forms of community-driven engagement with their customers and add entirely new revenue streams and product lines to their existing business.
Interested in creating your own program?
Not every brand will be able to create a platform like Nike's .SWOOSH. But anyone can leverage the same underlying Web3 infrastructure to benefit from new methods of distribution, community, and engagement, while generating new revenue streams.
At 3mint we've made it incredibly easy for brands and consumer businesses broadly to launch their own Web3-based loyalty and community programs. Our all-in-one customer engagement platform abstracts away all the technical aspects of Web3; no crypto knowledge required. Simply identify how you want to reward your customers, launch campaigns, and leverage the insights we provide based on customers' purchase behavior to target and re-engage users accordingly.
---
About 3mint
3mint is the all-in-one Web3 customer engagement platform for brands, with a toolkit of enterprise-grade APIs and SDKs that enable brands to build any Web3 product or experience at scale — without any of the complexity associated with blockchains. Get in touch here!
References