How DTC Brands Can Use Digital Collectibles to Build Customer Loyalty
Are you a DTC brand? Let us show you how to use digital collectibles to capture more customer data, drive more engagement, and build loyalty over time.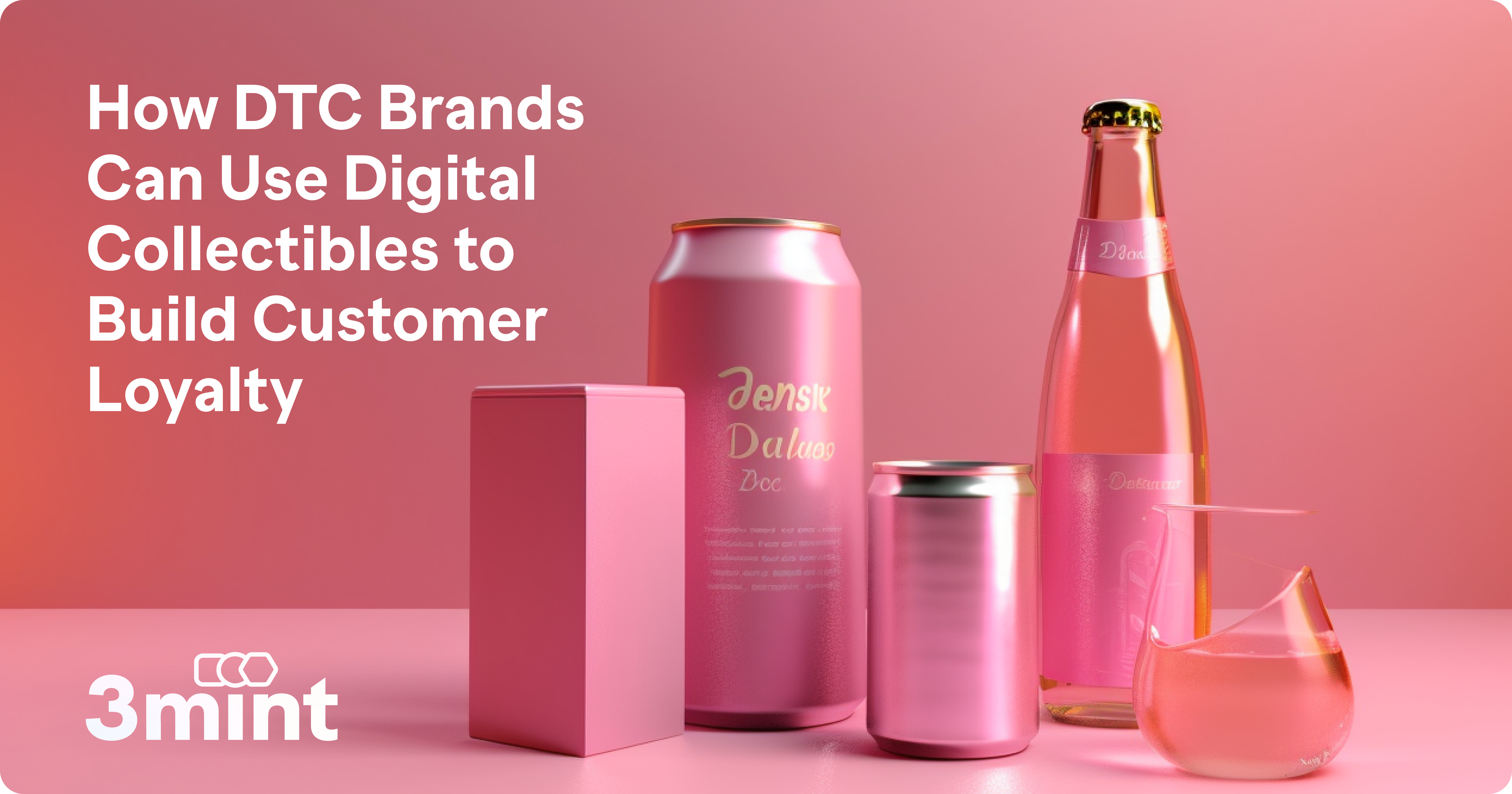 Are you a DTC brand looking to capture more customer data to drive repeat sales? Or, just curious about Web3 and digital collectibles? Either way, you've come to the right place, this one is specially hand-crafted for you.
At 3mint, we speak with a lot of DTC and Ecommerce brands, and from these conversations we've gathered two major learnings, which will certainly not be news to anyone building this kind of business:
Direct-to-Consumer is a misnomer: most brands (from CPG to fashion, beauty, and beyond) sell through many channels, including other ecommerce marketplaces (ie. Amazon), brick and mortar retailers, or other distributors (e.g. airlines). And in fact, even brands that started as purely DTC might today primarily sell through indirect channels. Their problem: they want to maximize sales by going omnichannel, but that leaves them with very little data on their end consumer in indirect channels—hence, no way to build a relationship with those customers.
DTC brands are feeling the pain of increased CACs and deterioration in targeting via digital channels, and are eager to find new ways of building customer loyalty. Engagement is the name of the game, and brands and consumers alike are craving it.
The problem space is clear. The question is, what are the most compelling solutions?
You might be thinking, at this point he's going to lay on the Web3 sauce, heavy. Stay zen, fren. We've been clear on this point before: Web3 is not a panacea, but it can be useful. Our goal here is to be specific about how you can use Web3—digital collectibles in particular—to drive business outcomes tied to the two problems described above.
In other words, we want to show you how you can use digital collectibles to capture more customer data, drive more engagement, and build loyalty over time.
Note: if you have no idea what Web3 is or how it intersects with customer loyalty, we recommend starting here.
1. Capture indirect customer data
Brands want to understand their customers, but consumers today are bombarded with requests to share data—everything from name and email to more invasive demands.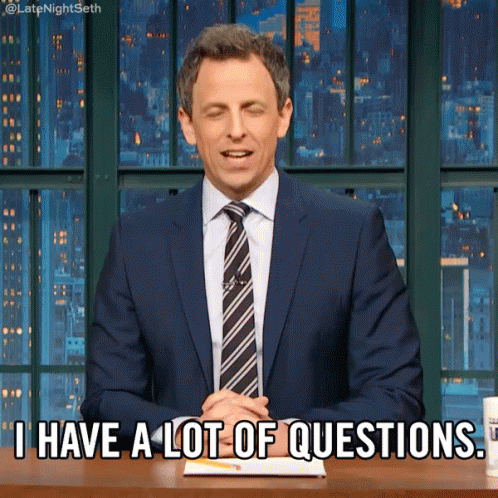 Unsurprisingly, they do not like this. (This is in fact a clear drop-off point.) Moreover, recent changes in regulations (GDPR, etc.) make it more challenging for brands to gather useful information on their customers. It has become essential to get consent from users for their data (that's a no-brainer in our view!) and increasingly important to make data sharing valuable for the consumer. The concept of zero party data has gained importance recently, with companies like Knocommerce allowing you to learn more about your consumers on your ecommerce site. But a big challenge remains with indirect channels.
Digital collectibles can be used to incentivize customers from all channels to provide data like emails and location, allowing you as a brand to build a relationship with them and re-engage them in the future to convert that second and third sale or drive them to your preferred channel. For example: driving users you acquired online to your brick-and-mortar; or driving users acquired at a supermarket to your ecommerce site. You can think of digital collectibles as a modern, digital-first rebate program that consumers actually want to participate in.
Why digital collectibles? Simply put, people like to collect things, especially when those things have value. Collectibles can accrue emotional value (see how Reddit is using them), aesthetic value (perhaps you love the style of Azuki), and financial value (Starbucks' stamps are selling at $2,000); but they can also have real utility tied to them that can be programmed over time and even enhanced by third parties, as they are fundamentally interoperable and composable.
What does that mean? A digital collectible can be configured to grant perks, such as:
Discounts on products on your ecommerce site
Exclusive or early access to products, online or in-store
Entry into Giveaways
Access to exclusive events
Free shipping
Etc.
Moreover, partner brands, retailers, or creators could provide additional benefits to your customers' collectibles. For example, a coffee shop that carries your brand's beverage could offer a discounted coffee to customers who hold 3 of your collectibles. The cross-selling opportunities from there are endless.
How does this work in practice? A consumer simply scans a QR code (on or within the product's packaging), claims the collectible into a newly generated wallet (or they can use their own), and voila. This can work for products sold in retail, online, and even products sold in airlines, now that Delta, JetBlue, and other carriers are offering free WiFi in flight.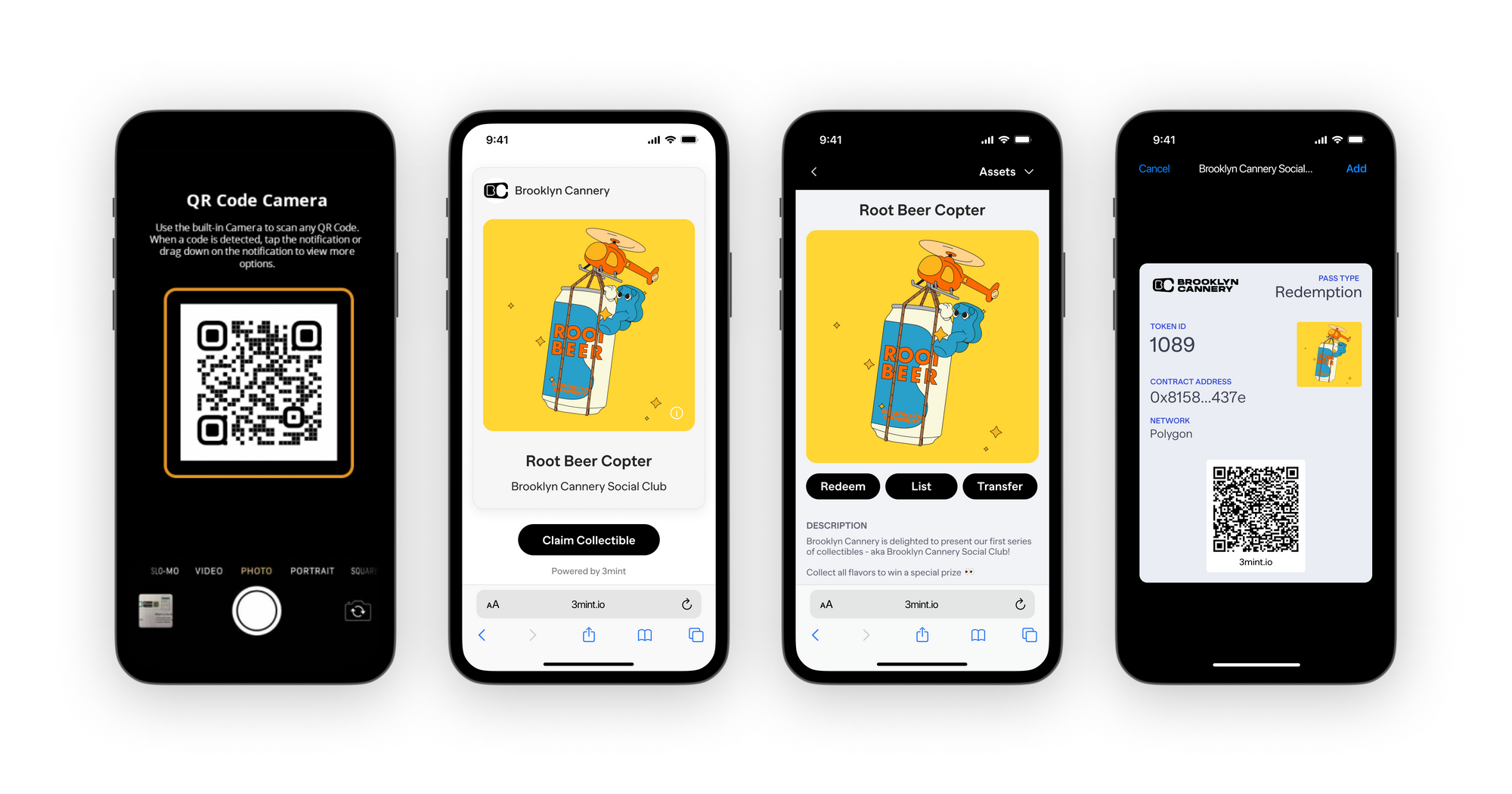 To recap: step 1 is to understand your customer—who they are, where they shop, etc. You can use digital collectibles to achieve this. Once you have that data, it's time to engage your customers.
2. Drive engagement
Now that you have a sense of who your customers are, you can use digital collectibles to drive engagement and form desired customer behaviors.
Let's get real, consumers are bored of traditional earn-and-burn mechanics; it's time to rethink the game, and indeed, why not make it a game? The way we like to think about engagement is to start with the user behaviors you want to incentivize—these might look like:
Discovering a product
Following or interacting with your brand's social medias
Purchasing a product online
Visiting a brick-and-mortar store
Referring a customer
Being the top customer of the month
For any of these actions, you can mint a digital collectible as a proof of experience. You could also gamify the experience with quests and challenges.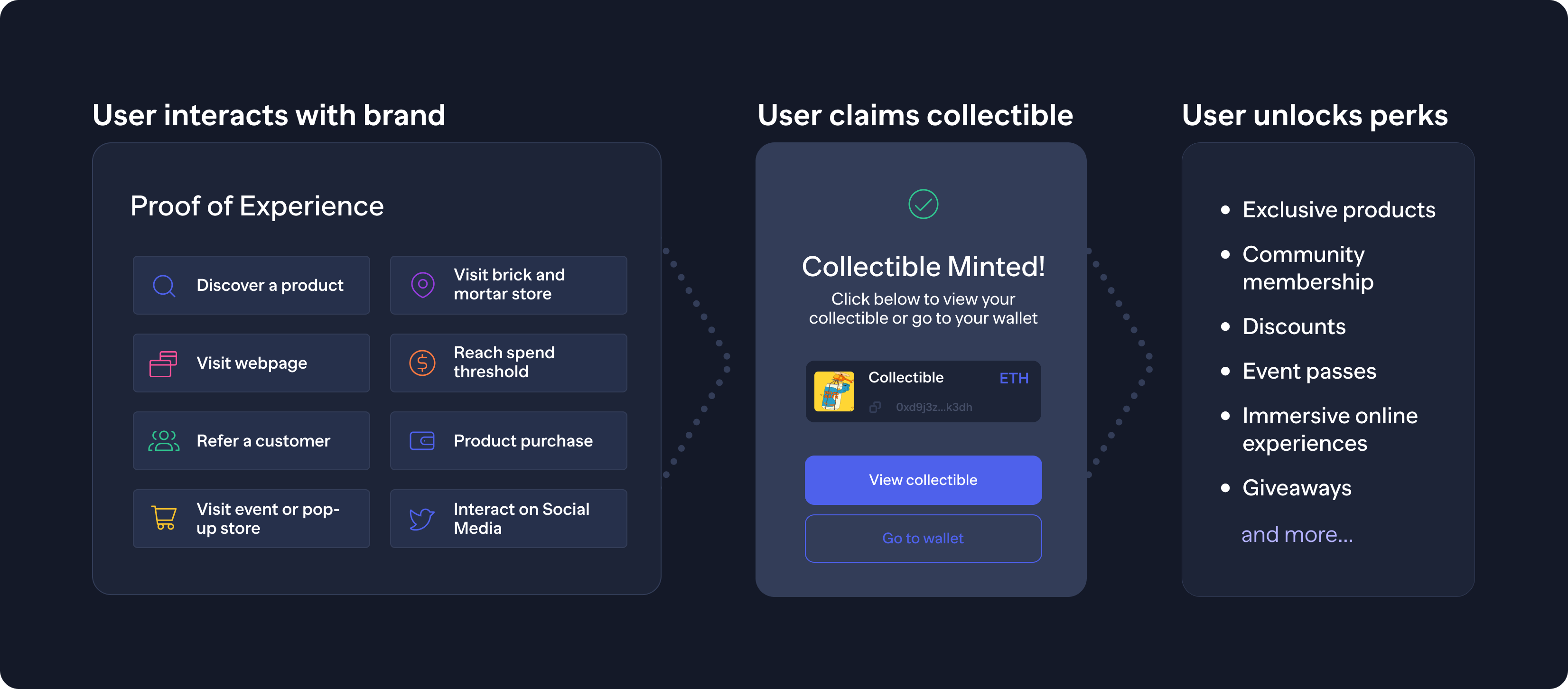 For example, Brooklyn Cannery, a prebiotic soda company based in Brooklyn, is launching a new loyalty program that leverages the power of digital collectibles, ie. NFTs. Customers can scan the QR code on Brooklyn Cannery cans (across all locations) to collect unique collectibles. The first challenge involves collecting four different collectibles, each one representing a piece of a root beer float. Customers who successfully collect all four will be rewarded with a new collectible (you guessed it, the complete root beer float) that serves as a membership pass to the Brooklyn Cannery Social Club and can be redeemed for an actual root beer float at participating retail locations in Brooklyn (such as ice cream and coffee shops).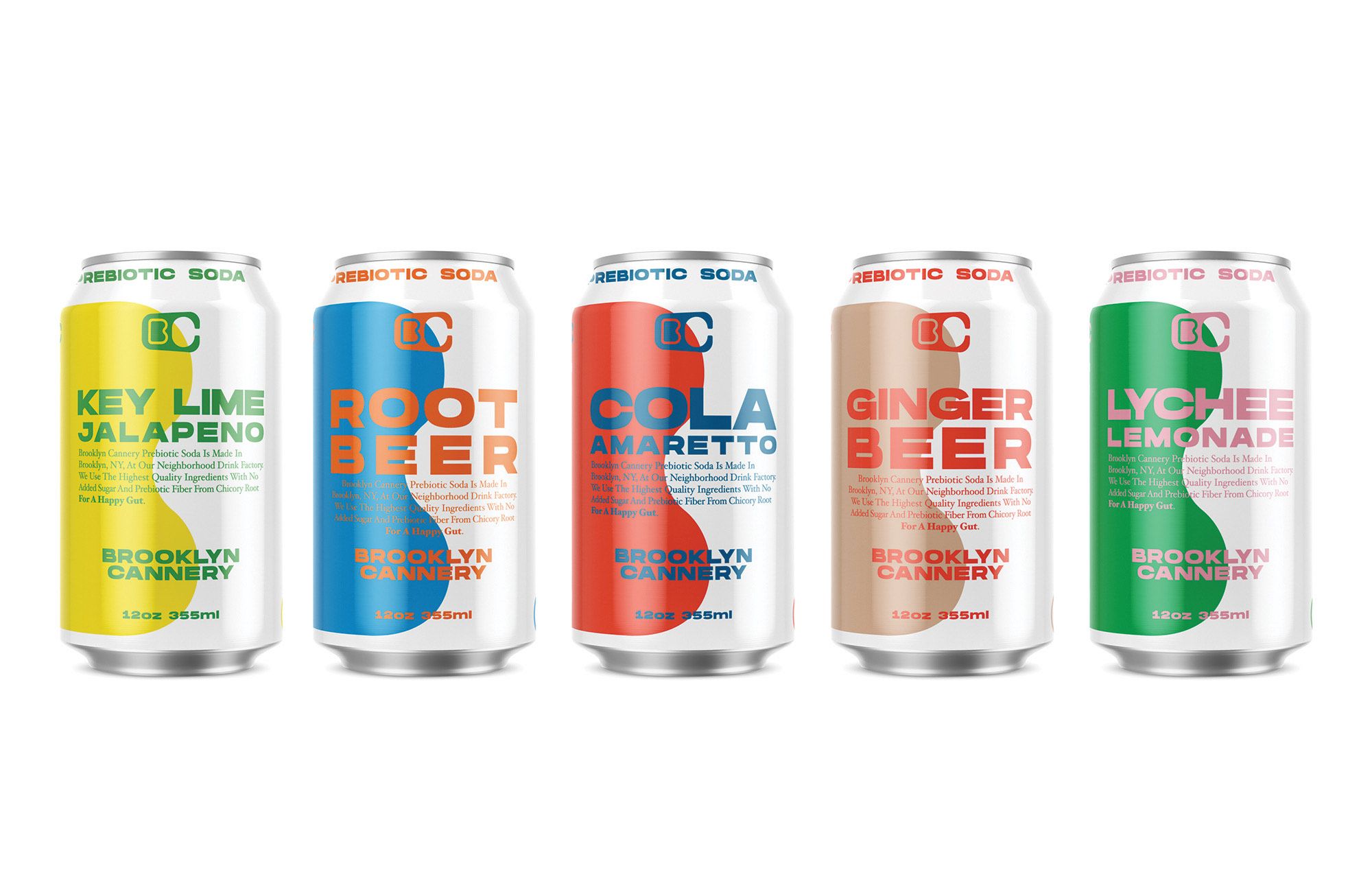 An added dimension to this scavenger hunt is that these collectibles are actually owned by the users who claim them, and as such, can easily be traded on secondary marketplaces, supercharging the gamification of the program and creating more engagement between customers and community members.
Leveraging game design mechanics like this can be an excellent way to drive engagement, and can be paired with more traditional point-based programs to surprise and delight users with experiential or asymmetric rewards. Further, the more data you start collecting from users, the more you can personalize your engagement and craft rewards that are suited to the individual.
3. Build loyalty
Engagement is a precursor to loyalty. Once you understand your customers and are able to drive specific behaviors, you can turn that engagement into deeper, longer-term loyalty and repeated consumption patterns.
Leveraging collectibles (including alongside traditional points-based systems) can help you create a balanced loyalty program that not only suits passive consumers, but also surfaces your power users—ie. your true fans.
First, more data about spending habits, affiliations (e.g. holding specific collectibles from your and other brands), and product preferences provides more insights into what your customer wants, where they shop, and what communities they feel connected to. That gives you the context required to build personalized loyalty.
Second, as your power users or customers engage and you are able to communicate with them (thanks to email capture), it'll be increasingly clear what motivates them. This is your chance to build a community around these fans based on recognition, exclusive access, and a voice in the direction of the brand. For example, you might poll your community on a new product colorway, a new flavor, or a new social media strategy.
There is no more powerful force than community to build loyalty. By creating a strong community, your most loyal customers will become your best advocates and ambassadors. You can further tier your loyalty program by offering exclusive perks and events to members of the community, or gamify access to it by unlocking community access based on earning specific achievement badges.
Finally, both active and passive customers alike can benefit from the network effects of Web3-based loyalty. Web3 enables true interoperability, meaning brands now have the opportunity to turn siloed communities and loyalty programs into ecosystems of loyalty where complementary brands and creators collaborate and enhance each other, leading to a better experience for the end user.
As a brand, that means you can expand your addressable audience and easily set up partnerships with complementary brands, retailers, and creators. For example, say you're an edgy sock brand, you can offer a special welcome gift or an exclusive discount to customers of sneaker brands that share your vibe. And let me be very clear, you don't need to formally partner with these brands, nor do you need to set up any special technology or do an integration. You just select which brands to include (based on their publicly-available collectibles), what perks to provide, and then sit back while you expand your loyalty network.
Or, going back to our Brooklyn Cannery example above, if you're a beverage brand, you could offer discounts to your collectible holders when they purchase your goods in-store at cafes and ice cream shops. Same idea, with the only difference that redemptions in this case happen IRL, but even that is made easy for the retailer; they simply need to scan a QR code in a customer's Apple or Google wallet; no need for POS integrations.
To sum up, you can use digital collectibles to build community and provide more utility value to your customers, forming the basis of loyalty for active and passive customers alike.
Conclusion
Digital collectibles are a great way to bring life to your loyalty program and capture data at the same time. It's an opportunity to go beyond traditional rewards and build a compelling consumer experience that can be intertwined with insightful customer data, leading to more engagement and repeat sales.
Does this still sound hard or confusing? Doesn't have to be! We can help you create a loyalty program from scratch, but we can also work with your existing providers, such as Yotpo, LoyaltyLion, or Smile.
Still unsure? Why not spend 15 minutes with us and we can walk you through a demo? Contact us here.
---
About 3mint
3mint is the all-in-one Web3 customer engagement platform for brands, with a toolkit of enterprise-grade APIs and SDKs that enable brands to build any Web3 product or experience at scale—without any of the complexity associated with blockchains. Get in touch with us here.