Case Study: Starbucks Odyssey
The first in our case study series: Why Starbucks' foray into Web3 and NFTs is such a massive deal for the future of customer loyalty.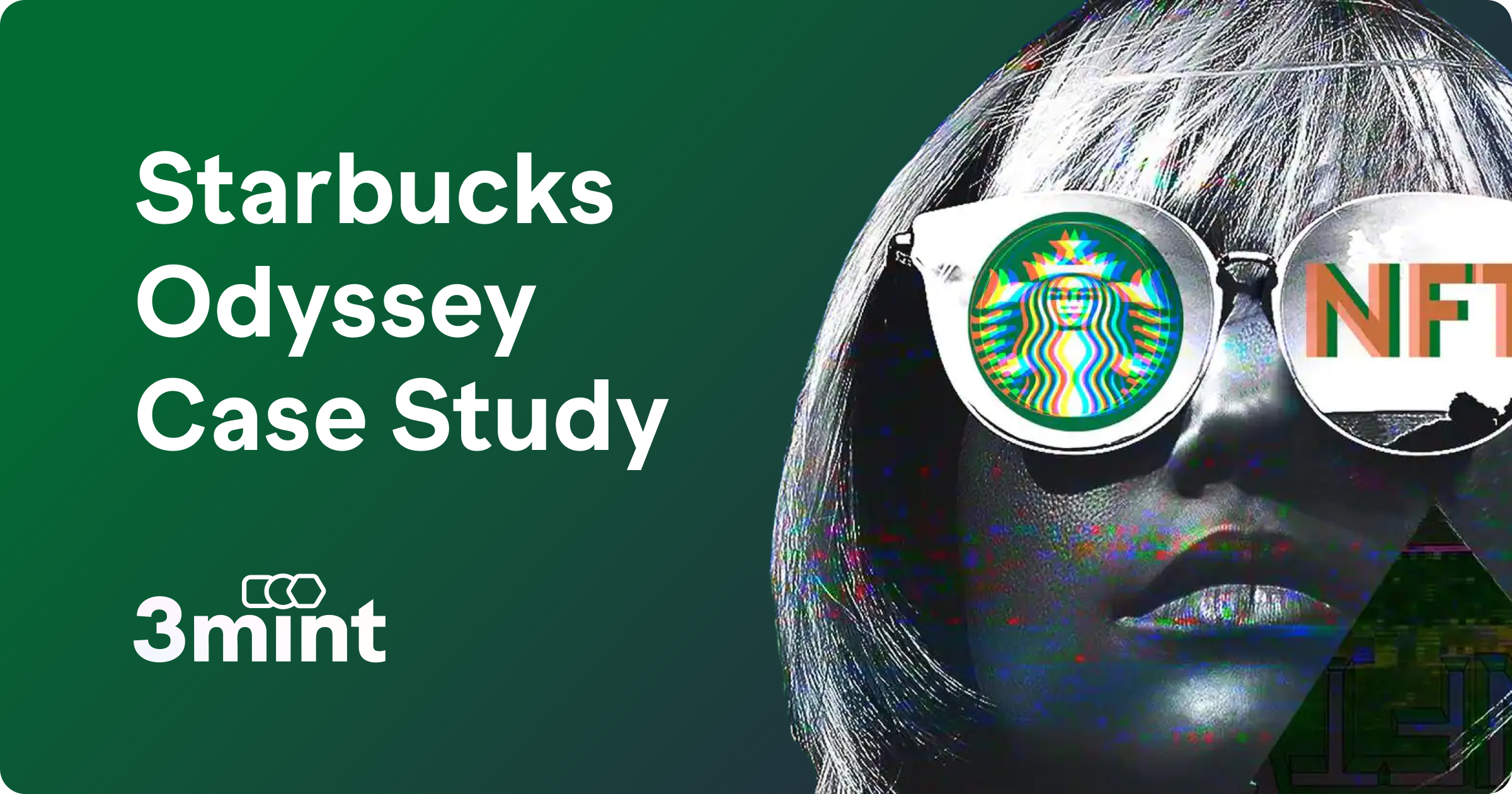 Starbucks has always been a pioneer in the loyalty space, being one of the first major brands to introduce a seamless mobile app experience, where customers could both earn rewards, as well as make payments for their orders, directly in app. Starbucks' rewards program is so successful that it has over 27 million active users, making it the most used restaurant loyalty app in the US.¹
Earlier this year, Starbucks announced the biggest change to their loyalty program since it started: Starbucks Odyssey, a new experience based on Web3.
What is the program?
According to Starbucks,
"Starbucks Odyssey is a new experience powered by Web3 technology that will offer Starbucks Rewards members and Starbucks partners (employees) in the United States the opportunity to earn and purchase digital collectible assets that will unlock access to new benefits and immersive coffee experiences."²
In short, Starbucks Odyssey will serve as an extension of the Starbucks Rewards program, where users will be able to earn digital collectible stamps (NFTs) based on completing journeys, as well as purchase limited-edition stamps featuring artwork from outside artists and partners. There will be no need to use cryptocurrency or connect a crypto wallet on the platform, and branding seems to intentionally mask the technology involved.
How does it work?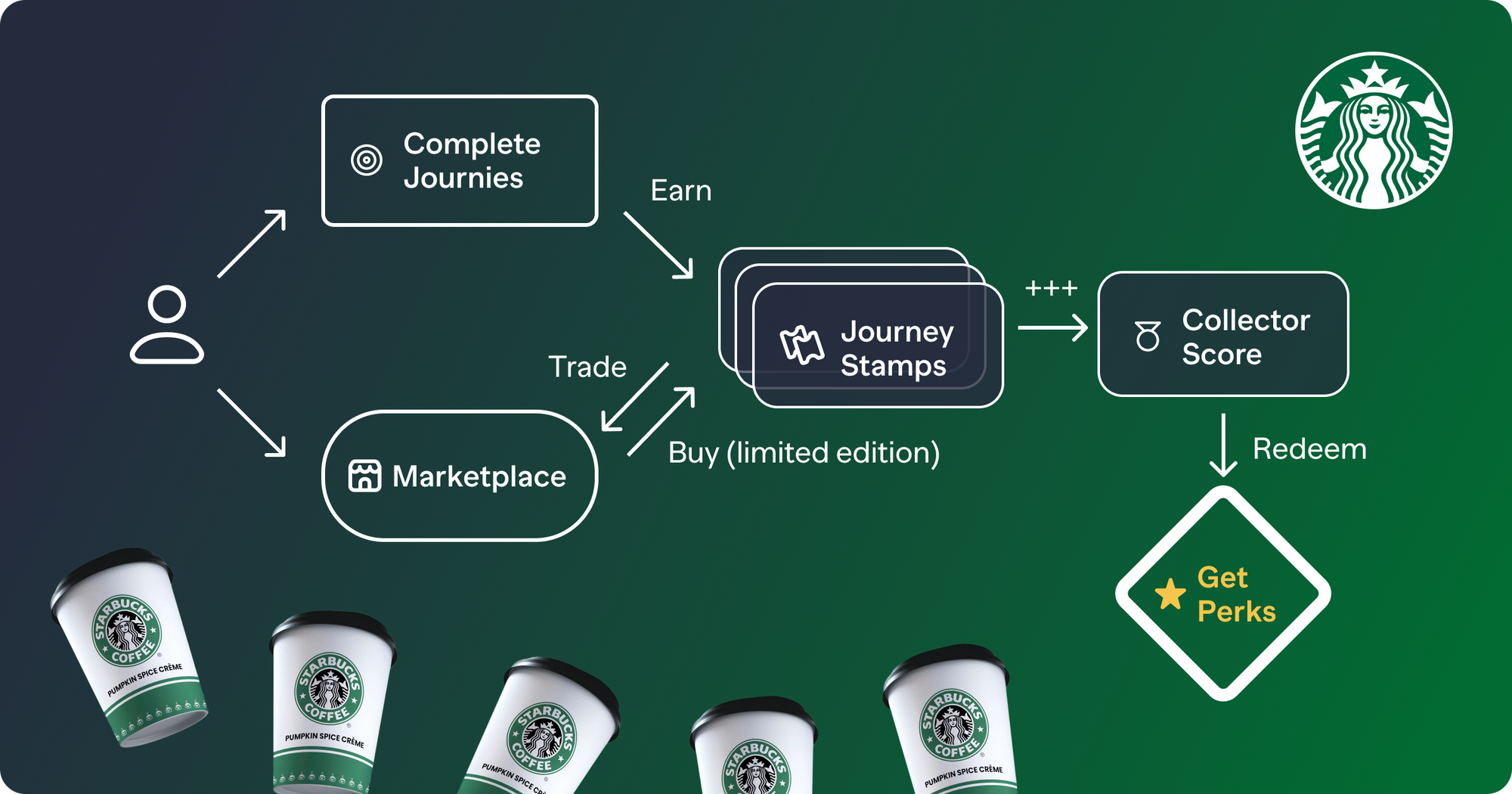 Users can earn Journey Stamp NFTs in one of three ways:
Spend on Starbucks goods
Engage with educational coffee activities
Play virtual interactive games
They can also purchase limited-edition stamps from the dedicated marketplace.
Each stamp will have a point value based on its rarity, and as users accumulate more points, they'll be able to unlock experiences such as a virtual espresso martini-making class or a trip to the Starbucks coffee farm in Costa Rica.
A portion of the proceeds from each limited-edition stamp will also be donated to charity. In addition to customers, Starbucks also says the Odyssey platform will have an element for employees.
Why the change?
First, Starbucks understands that technology is changing the way that brands and their customers interact with each other, and customers are embracing a more participatory experience, where ownership and community matter more. While Starbucks has always prided itself on being the "Third Place," it's often a place where people end up alone together, rather than a true forum for community. By creating an NFT-based loyalty program, they're opening the door for customers to become real stakeholders in the brand, boosting customers' sense of ownership in the community.
Second, according to the Starbucks team, internal user research suggested people wanted more personalized recognition and more community out of the Rewards Program, two pillars of the new Odyssey initiative. Recognition comes in many more diverse forms (both in terms of ways to earn it, and rewards to redeem), while community is core to the ethos of the program.
Third, from a technical perspective, shifting to a Web3-based system makes it much easier for Starbucks to go global with its loyalty program. Today, this is difficult to implement, as it has different tech stacks (including different POS systems) in the different countries it operates in. However, by making NFTs the standard system of value, Starbucks will be able to expand its loyalty app footprint across its global locations.
What Starbucks did well
Starbucks has set a new bar for Web3-based loyalty, spending time thinking through the high level implications as well as the details of implementation. Here's what they did well:
They're not completely changing the rewards program right away; instead, they're first experimenting with a pilot program that exists as a standalone web app, and it's fully opt-in without disrupting their existing rewards program.
They've minimized the use of Web3 jargon, and are not requiring ownership or even knowledge of wallets or crypto.
This is not purely pay-to-play. There's a thoughtful mix of stamps you can earn and stamps you can purchase. Ultimately, it's the collector score total that unlocks the perks, providing more than one way to get there. Moreover, stamps can randomly have different levels of rarity. Both of these properties further enhance the dynamics of gamification in the program.
Starbucks understands the value of going multiplayer by bringing in partners and employees, creating a network of loyalty that can create more value for customers as well as the Starbucks brand.
They've nailed the messaging around creating a community in the virtual third place, which is a genuine extension of Starbucks' original mission.
Interested in creating your own program?
What Starbucks has done is a game changer for customer loyalty. But the great news is that you can do it too!
At 3mint we've made it incredibly easy for brands and consumer businesses broadly to launch their own Web3-based loyalty programs. Our all-in-one customer engagement platform abstracts away all the technical aspects of Web3; no crypto knowledge required. Simply identify how you want to reward your customers, launch campaigns, and leverage the insights we provide based on customers' purchase behavior to target and re-engage users accordingly.
---
About 3mint
3mint is the all-in-one Web3 customer engagement platform for brands, with a toolkit of enterprise-grade APIs and SDKs that enable brands to build any Web3 product or experience at scale — without any of the complexity associated with blockchains. Get in touch here!
References
[1] Restaurant Dive, "Despite menu price increases, Starbucks Rewards members keep coming back"
[2] Starbucks, "Starbucks Brewing Revolutionary Web3 Experience for its Starbucks Rewards Members"