Case Study: Lacoste UNDW3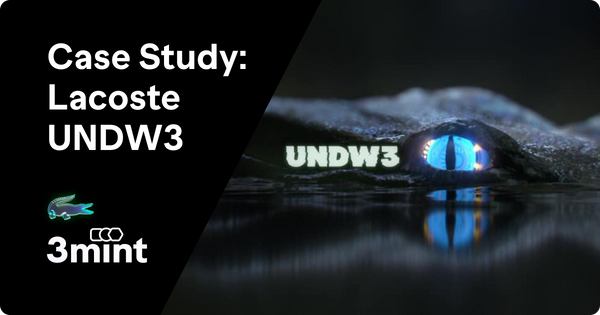 Lacoste, a world renowned clothing label known for its classic crocodile logoed polo shirts, has been pushing boundaries by launching virtual partnerships with Minecraft and offering exclusive access to their loyal customers through the 'Le Club' loyalty program.
But that's not where it ends. In 2022, they ventured into issuing NFTs to step up the experience they offer their customers, and just recently Lacoste launched their RG Experience at Roland Garros, celebrating tennis player Daniil Medvedev and offering exclusive access to lucky members of the UNDW3 community.
This case study explores how Lacoste moved into Web3 by launching an immersive community initiative to complement their existing loyalty program.
The first NFT drop
On June 14th, Lacoste launched its first NFT collection called UNDW3 (pronounced underwater), which serves as a genesis pass for holders. It consisted of 11,212 digital pieces featuring a crocodile emerging from the water, playing on Lacoste's logo.
While most collections are in the 10,000 range, the 11,212 NFTs are a nod to the iconic polo shirt L1212. The starting price was set at 0.08 ETH for an NFT that would guarantee access to exclusive physical products, co-ownership of rights to creatives, and a voice in upcoming designs.
The drop was highly successful, selling out quickly and generating over $1.7 million in trading volume. The Lacoste DAO (holders of the NFT) has grown to over 8,000 members, and its Discord is now host to over 52,000 members.
The Emerge airdrop
After the initial NFT drop, Lacoste decided to reward buyers of its first NFT genesis pass by airdropping them a free profile picture NFT (PFP).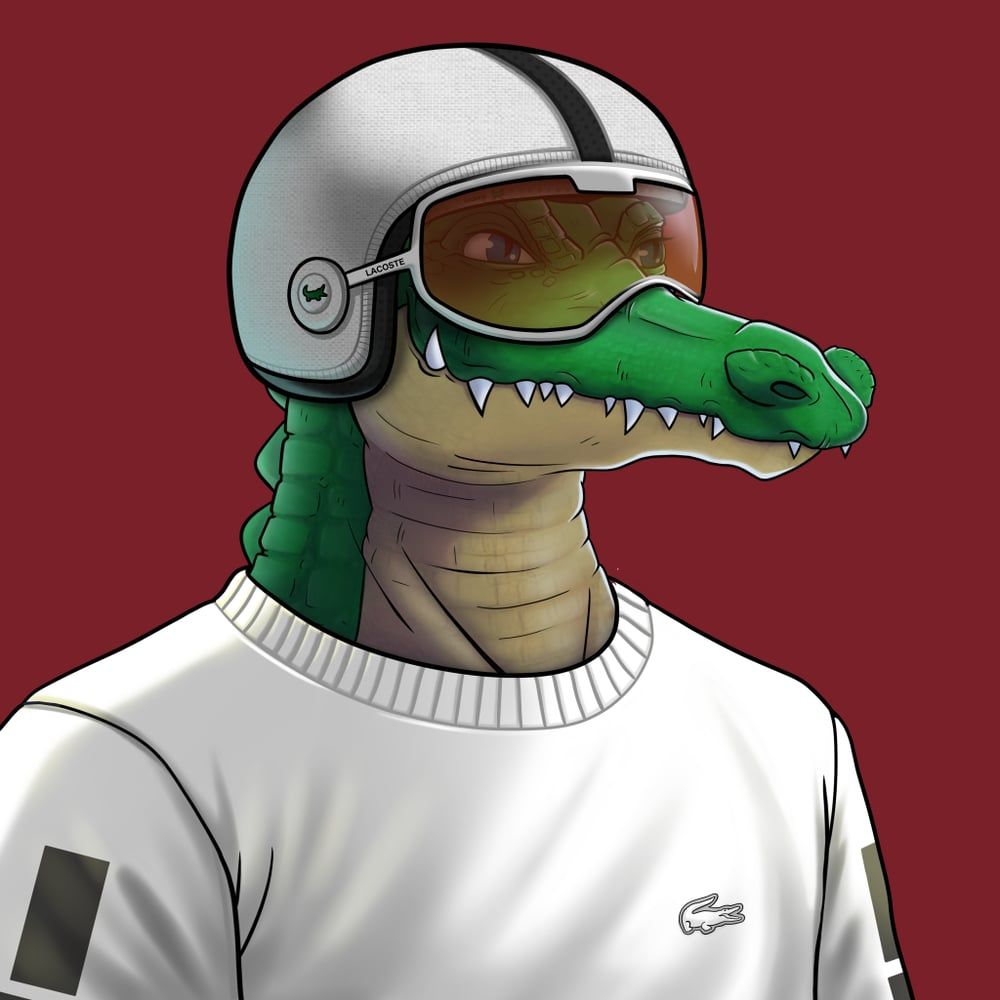 Under the title "The emerge," holders received one pfp for each genesis pass NFT they held in their wallet. This second round of the Lacoste UNDW3 experience has accumulated 6,750 owners, of which 60% are unique owners.
Interestingly, despite it being a free airdrop, only 4% of the 11,212 NFTs are listed for sale on NFT marketplaces.
How does it work?
The main place customers could buy the first NFT was OpenSea, the biggest Ethereum NFT marketplace. Users who purchased the genesis NFT pass gained entry to exclusive Discord channels where creative exchange and co-creation of virtual as well as physical items takes place. In the UNDW3 factory, they can create their own virtual wardrobe and contribute to building future virtual worlds and Lacoste content alongside the team. Active participants are rewarded with virtual and physical goods for their contributions.
Why is this important?
As fashion becomes increasingly digital, established fashion brands have to innovate to not fall behind. A McKinsey report suggests that virtual fashion will soon edge closer to the mainstream. Lacoste has been early exploring digital opportunities, and this collection showcased how one can leverage iconic brand imagery in the NFT space.
Moreover, despite dropping an NFT during a bear market, Lacoste's drop sold out quickly and continues seeing low numbers of NFTs listed for sale on marketplaces - further showcasing customer loyalty.
Lacoste seems to have cracked the code on not only understanding the Web3 side of the equation, but also converting existing customers. According to our friends at The Naked Collector, Lacoste has attracted the most first-time minters of any NFT project (including Nike and Adidas!). They've also managed to keep a high unique ownership percentage (ranking 5th among all fashion-related NFT projects with ~62% unique ownership.)
By issuing an NFT, Lacoste is investing in the idea of creating co-ownership, changing up how designs are created, and building a passionate community around its brand, on- and offline. Essentially, the brand is recognizing that relationships between brands and consumers are changing and is acting in accordance with where they see relationships moving.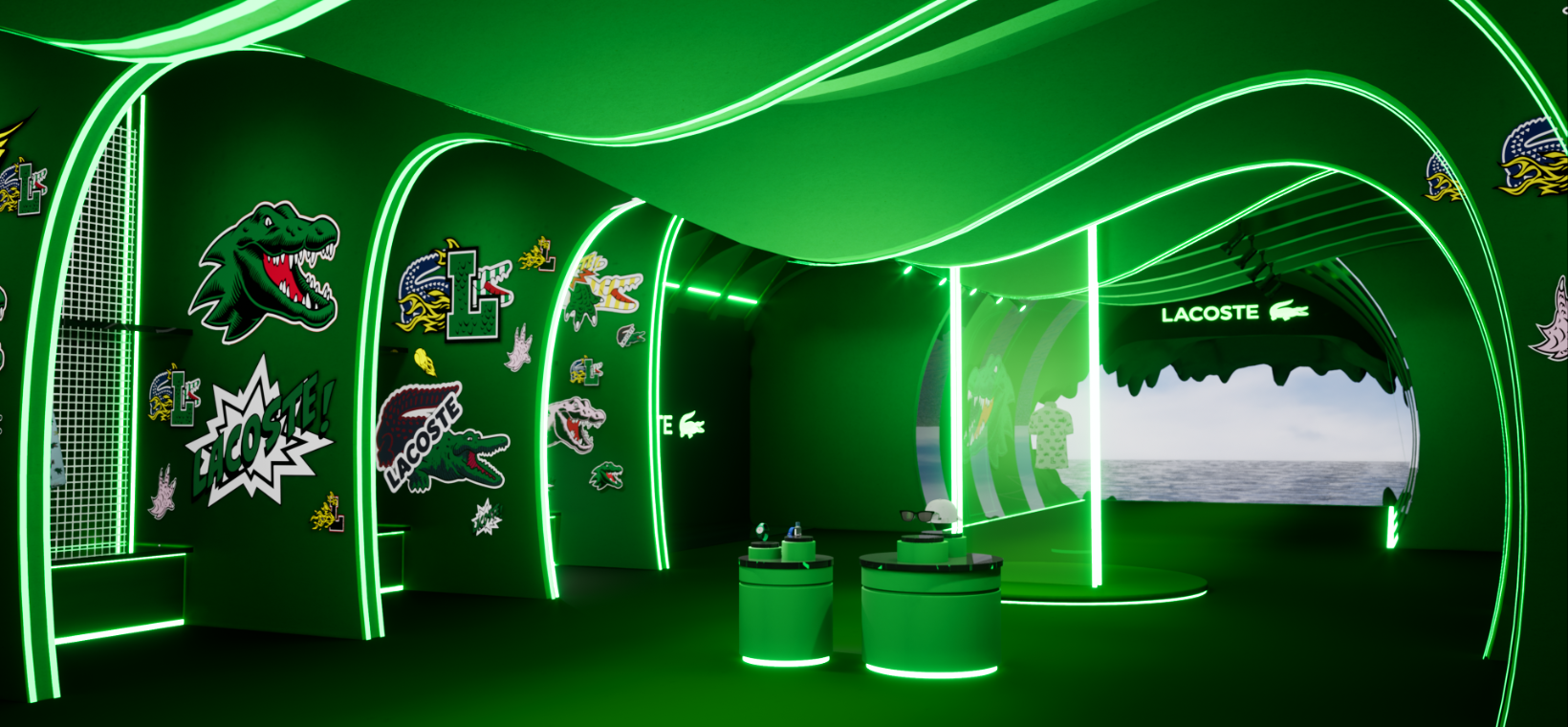 What Lacoste did well
Lacoste successfully experimented with Web3 and continues to add new utilities and rights for holders, setting the bar for what's possible for fashion brands with loyal fans beyond dropping virtual fashion items. A few things they did well:
They did not set out to replace their existing loyalty program but leveraged web3 to explore new opportunities. With the release of an NFT collection, they enable a new relationship with their customers not previously possible. By providing access to decisions on design, Lacoste is paving the way for co-creation with its fans. One example of co-creation was the release of "The Emerge", which was designed in collaboration with the community. As the brand shared on Twitter: "In a world more and more connected, we think the next big step is to add you to our core team."
Lacoste understood the power of PFPs for branding and airdropped a free NFT to all their holders. This helps community members find each other, builds a shared identity, and grows brand presence in Web3.
The brand is offering new experiences to its customers. For Christmas, one of the busiest seasons for fashion, they collaborated with Emperia VR to open a virtual store. In this store, there was a secret room only accessible to NFT holders where five users were randomly picked for a special price. This increased return visits and further built loyalty among its visitors. They've also integrated UNDW3 into the IRL store experience, dedicating a section of their flagship Champs-Élysées store 'Lacoste Arena' to the community, and allowing holders to obtain an exclusive UNDW3 polo shirt on site.
By issuing an NFT, creating a Discord server and the Lacoste DAO, the brand is building a community and bringing together its loyal fans. Previously, the only places where fans could get in touch would have been Social Media. With Web3, a new community experience is possible, one that's more social, with the added benefit of offering holders rights to contribute to creation. As Benjamin Blamoutier (VP Global Brand & Customer Experience) mentioned during the Lacoste x Dispatch event at NFT NYC, Lacoste is investing heavily in direct, personal interactions with their community in this forum—something you don't see every day in more traditional brands.
With its collection, Lacoste has maintained excellent consistency between its Web2 and Web3 brands. All Web3 creations directly tie back to Lacoste's heritage, while creatively exploring its main character: the crocodile. As the brand director, Catherine Spindler highlights, all of the brand's Web3 efforts maintain its image of "creativity and avant-gardism."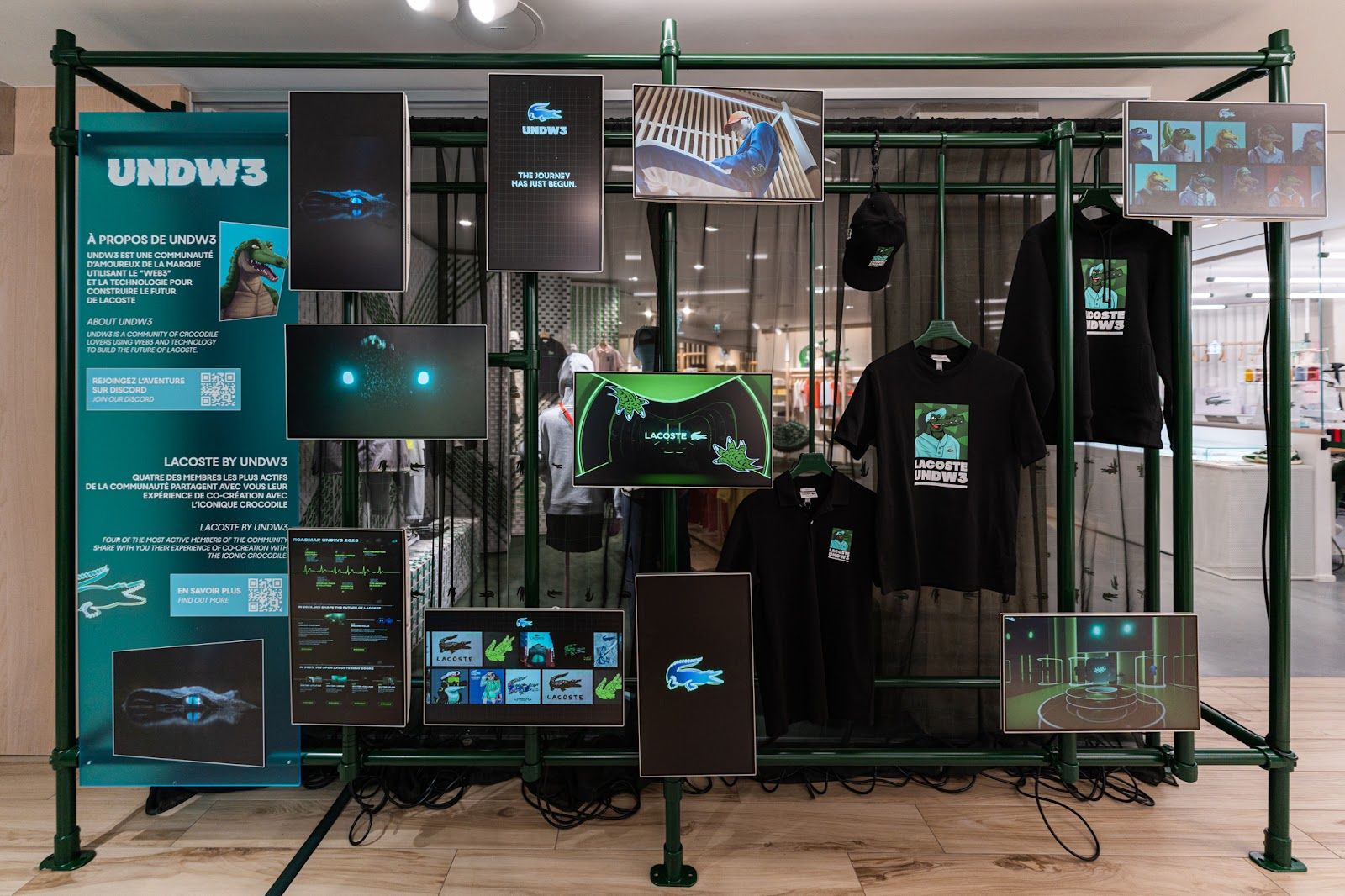 What's next for Lacoste UNDW3?
With Roland-Garros coming up soon, Lacoste is introducing the 23 Roland-Garros UNDW3 Experience, giving 55 lucky community members the chance to witness the excitement and energy of the tournament live from the Lacoste Skybox Lodge during the French Open Quarter Finals. The RG UNDW3 experience rewards OG fans, encourages exclusivity, and explores the IRL value of such loyalty programs.
Interested in creating your own program?
While not every brand has an iconic logo figure they can rely on to design an NFT program, everyone can leverage the underlying Web3 infrastructure to innovate the way they address customer loyalty. Reach out to us here to get in touch!
---
About 3mint
3mint is the all-in-one Web3 customer loyalty platform for consumer brands, enabling you to leverage digital collectibles to capture more customer data, drive engagement, and build loyalty—without any of the hassle of dealing with Web3. Get in touch with us here.