Product Highlights #2: Dedicated Account Wallets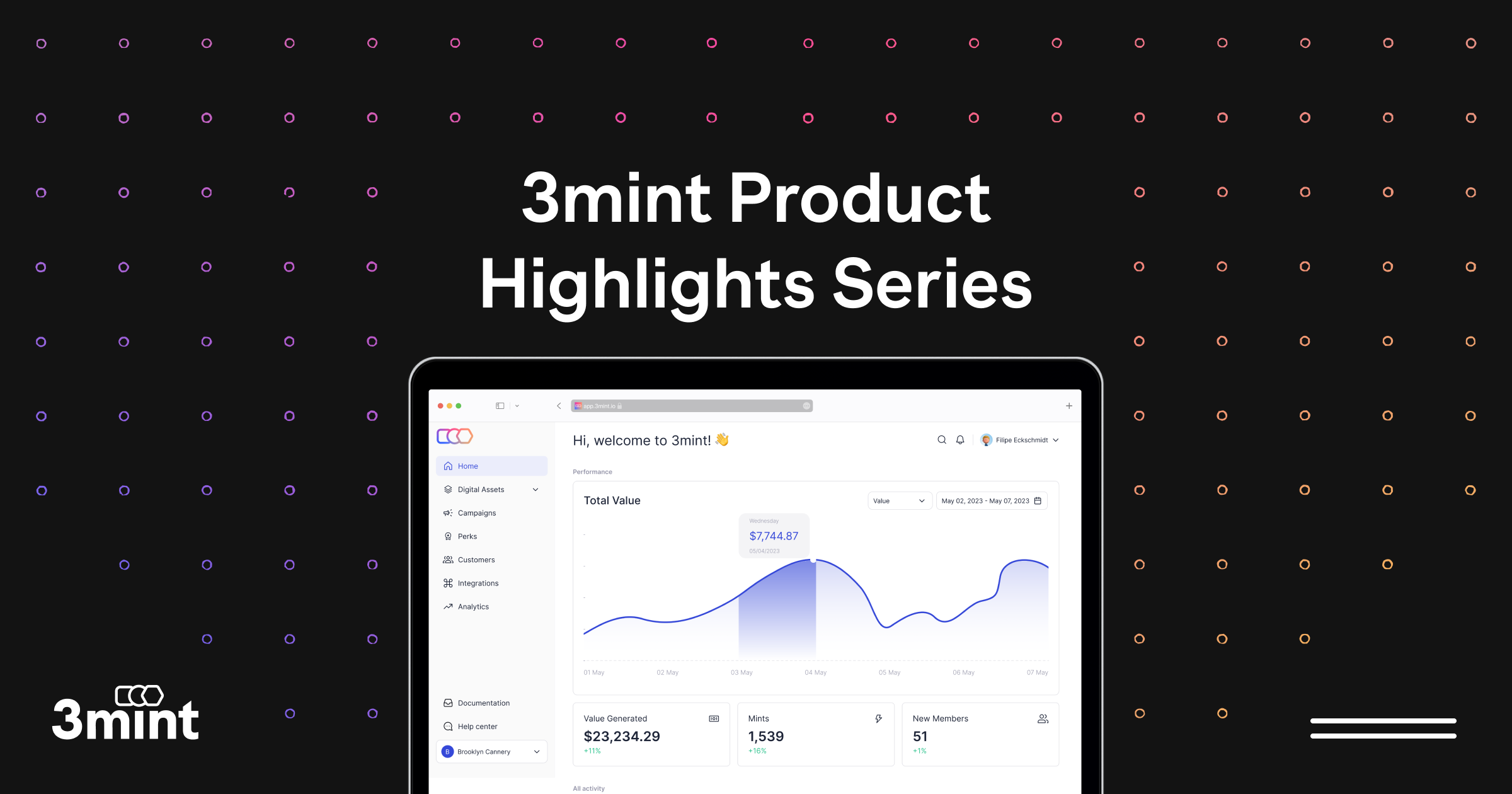 Welcome to the second post in our Product Highlights Series leading up to our Beta launch on August 16th. To start from the beginning, check out our first post here. To see the next post in the series, click here. We're super excited to keep sharing with you what we've been building over the past few months. Subscribe to our blog to stay up to date on Beta release details and future product news!
---
Welcome back to our Product Highlights series! In today's post, we'll cover some more of the behind-the-scenes plumbing that enables 3mint to work so smoothly. If technical infrastructure isn't your cup of tea, don't worry fam, the next post will be more up your alley!
All the Magic of Web3, None of the Pain
Our design philosophy from the beginning has centered around creating a buttery smooth and intuitive user experience without compromising on what makes Web3, Web3. It's important to us that brands and end users alike benefit from the underlying Web3 infrastructure without incurring any additional friction.
For brands, that means you can easily do things like create and issue collectibles and tokens, but without having to deal with wallet security, choosing a wallet or funding that wallet with crypto, or paying for transactions (ie. gas).
Why Is this Important?
Get started immediately: when you create a 3mint account, a smart contract wallet (SCW) is automatically created for that account behind the scenes, accessible only by you. That enables you to get started with Collections right away—no need to create a wallet separately or connect it to the platform.
Gasless transactions: we mean it when we say you can get started immediately. With 3mint, neither you (as the admin) or your customers need to pay for gas when executing transactions like minting or sending a collectible. We've built a transaction orchestration system that allows us to handle all transactions on our backend, allowing us to monitor transactions, bundle them, optimize for gas fees, and sponsor all said fees. You can create a Collection (ie. deploy a smart contract) and execute an airdrop without worrying about any transaction costs or any hiccups in the transaction's execution.
Your account, your wallet: the beauty of having a dedicated SCW for your account is that your account is truly yours, ie. the collectibles you issue will always be traceable back to the same individual wallet address, ensuring on-chain provenance. Moreover, that wallet isn't shared with any other brands, avoiding any confusion around the point of origin.
Right to exit: it wouldn't be Web3 if you created an account on 3mint and you were locked into our platform forever. By furnishing each account with a dedicated SCW, we are leaving the door open for you to exit 3mint and take your wallet, and all its associated Collections and Collectibles, with you at any time. (For the technically inclined, this is made possible by smart contract wallets: you can rotate the private key associated with the address of the account to your own.)
Compatibility across EVM chains: finally, in case we didn't mention it, we are fully EVM compatible, meaning 3mint allows you to deploy Collections on Ethereum, Polygon, Arbitrum, Optimism, and Avalanche—with more chains coming in the future.
In this post, we focused on the admin wallet infrastructure that keeps the wheels spinning under the hood. In subsequent posts, we'll start talking about the end user experience. Stay tuned for more!
To see the next post in the series, click here.
---
About 3mint
3mint is the all-in-one Web3 customer loyalty platform for consumer brands, enabling you to leverage digital collectibles to capture more customer data, drive engagement, and build loyalty—without any of the hassle of dealing with Web3. Get in touch with us here.