Announcing the 3mint Public Alpha
3mint is proud to announce the launch of its public Alpha! Create Web3-based engagement campaigns, memberships, and loyalty programs without any knowledge of crypto.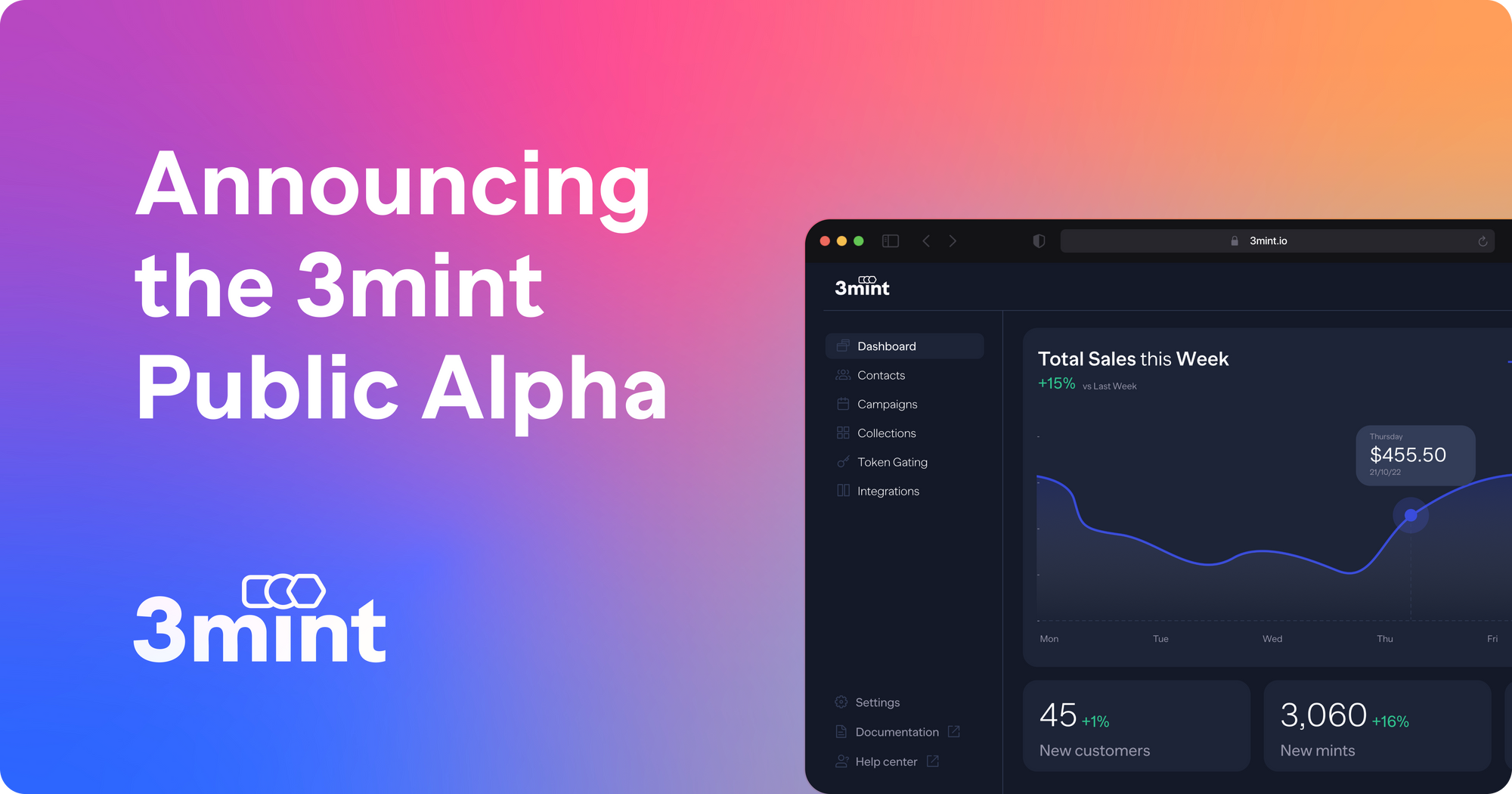 It's time for a new customer engagement model, powered by Web3.
Today, we are thrilled to announce 3mint's public Alpha — a major milestone for the entire team!
Over the past few months, our team has been on a mission to create a Web3 toolkit for Web2 companies, one that leverages Web3 technology to solve real problems that consumer-facing brands, marketplaces, and other companies face today.
We're excited to unveil a first glimpse into an ambitious product roadmap that will change the way brands interact with their customers forever. This comes after many months of user interviews, pilot projects with early customers and adopters, and plenty of great feedback from our community of partners and investors.
What is 3mint?
3mint is an all-in-one platform for Web3-based customer engagement, built on a scalable, flexible toolkit of APIs and SDKs — enabling brands and other consumer-facing businesses to better engage their customers with modern tools built for the new digital era.
Let's face it, today's point-based loyalty programs kind of suck. Email marketing campaigns are mostly spammy garbage. At the same time, new technologies are completely changing the relationship between brands and their customers, and in many cases making it harder for brands to reach and target their customers effectively.
It's time for a new model, one where you own your channel, you can create meaningful connection with your customers, and build real community. That's what 3mint is all about. We make it dead simple to build loyalty programs, engagement campaigns, communities, and memberships, all powered by Web3.
What can you do in the Alpha?
The 3mint Alpha is made up of a user dashboard and a set of APIs. With these two pieces, you can:
Create engagement campaigns with gasless airdrops to your email list.
Create a community or membership program based on NFTs.
Create a loyalty program where your customers can earn tokens, digital collectibles, coupons, and other perks based on actions they take (e.g. reaching a spend threshold).
Gate your website, blog, ecommerce site, etc.
And best of all, you can do all of the above without any knowledge of crypto or Web3 — in fact, you don't have to deal with crypto at all! You don't need a wallet, you don't have to hold crypto, you don't need to worry about gas or transaction optimization. It just works.
What's under the hood?
For our developer friends, we're excited to say everything has been built with you in mind! All of our features are accessible via REST API first and foremost, from airdropping to token gating and beyond.
From a technical perspective, here's what you can do with the 3mint Alpha API:
Programmatic, gasless, batched airdrops
Token-gating, based on NFTs, tokens, combinations, time, and metadata
All of the above can be done on Ethereum, Polygon, Arbitrum, Optimism, Avalanche, and Solana. Moreover, everything is built for scale, with transaction management and gas optimization built in (more on all of that in a future blog post).
What will you be able to do in the near future?
Very soon, you'll be able to do a whole lot more on 3mint. What we have in store for you:
Custodial and semi-custodial wallets, built with security and great user experience in mind
Fully-featured Integrations with Hubspot, Salesforce, Shopify, Mailchimp, and more.
NFT passes dropped right into your Apple Wallet.
Detailed analytics and individualized insights into your customers' purchasing behaviors.
Creator and partner builder.
And much, much more.
Where do I sign up?
Right here! We'd love to have you join us on this journey. Heads up, while we've already been using this platform with a select few customers, this is still an Alpha — cue all the relevant disclaimers!
That said, we appreciate your feedback, questions, and suggestions. Let us know what's important to you, we'd love to hear from you.
---
About 3mint
3mint is the all-in-one Web3 customer engagement platform for brands, with a toolkit of enterprise-grade APIs and SDKs that enable brands to build any Web3 product or experience at scale — without any of the complexity associated with blockchains. Check out our docs here and get in touch here!